Answered By: Diane Schrecker

Last Updated:

May 12, 2016

Views:

4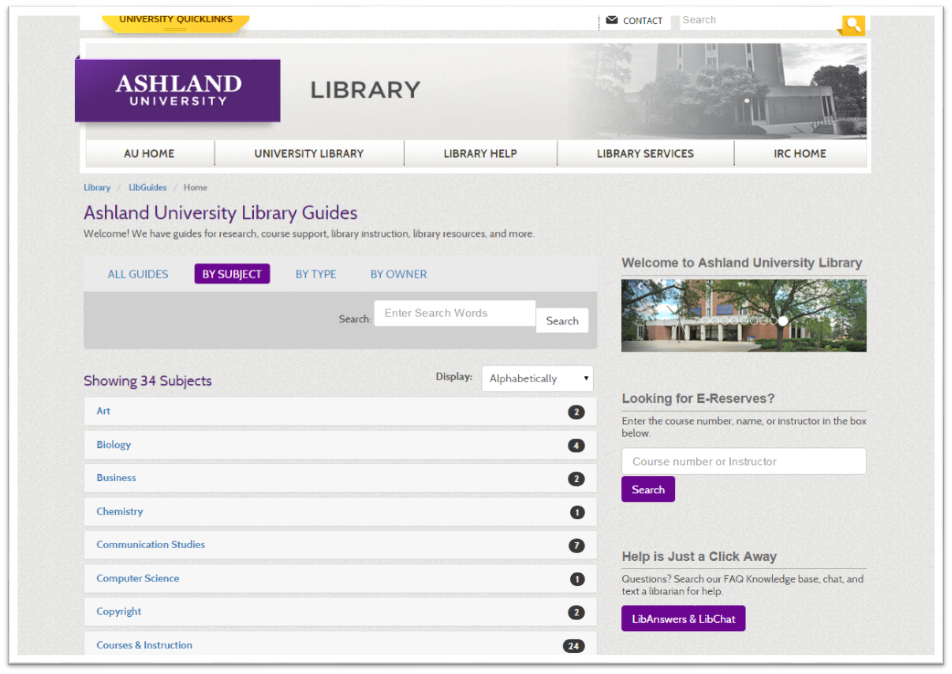 LibGuides are a content management and information sharing system used to "curate knowledge and share information by creating online guides on any topic, subject, course, on any process, on anything" (Springshare).
AU Library uses LibGuides in a variety of ways to support teaching and learning at Ashland University.
Library Instruction
Reference librarian's often develop a LibGuide for instruction sessions.

Course Support
Guides may be created for your course and feature library resources available for assignments.

Research Help
General guides are in place for topics such as Art, Business, Education, and Religion.

Instructional Resource Center
The IRC has a guides for children's literature, Banned Books Week, and more.

General Library Information
We also have LibGuides for copyright information.

LibGuides are available for use on or off campus. Some content, such as article resources or e-books, may require authentication prior to viewing.
AU Library Hours
Extended Hours
April 24th - May 4th

Monday, 4/24 - Thursday, 4/27
2:00 pm to 2:00 am
Friday, 4/28
7:45 am to 5:00 pm
Saturday, 4/29
Noon to 4:00 pm
Sunday, 4/30
2:00 pm to 2:00 am
Monday, 5/1 - Wednesday, 5/3
7:45 am to 2:00 am
Thursday, 5/4
7:45 am to 5:00 pm

Extended hours provide study and work space for students during the last week of classes and finals.